The flow chart of the internship processes is presented below. You can get information from the responsible teaching staff named below in the Internship Commission.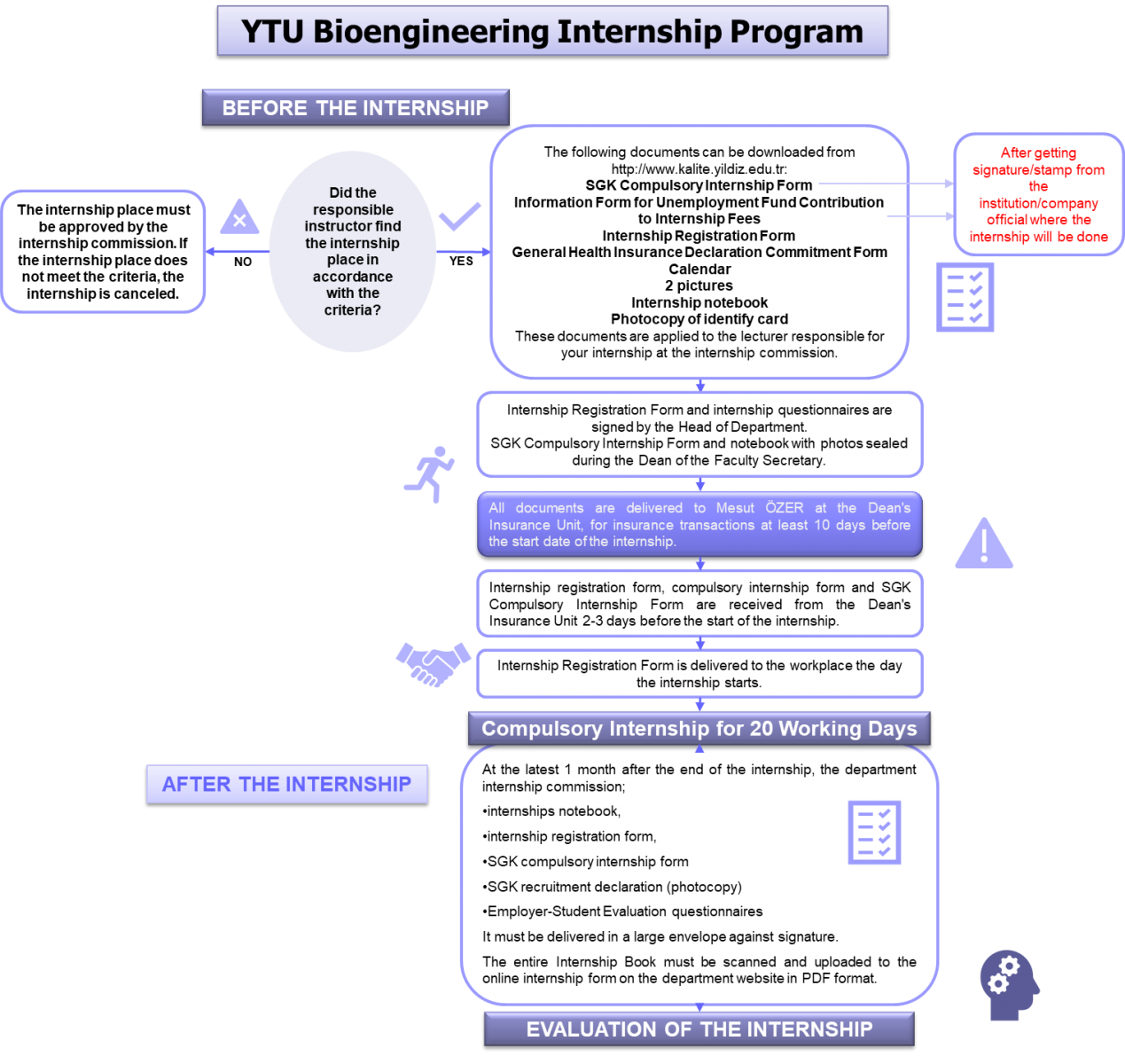 It is important for our students to communicate with the responsible instructors in the following lists (Laboratory and Production) via e-mail , in order for the document delivery process to proceed properly in the pre- or post-internship processes.
Students whose names are not on the instructor list should contact Ress. Assist. Selcan AKAR.
Assist. Prof. Dr. Tuğba ÖZER (Chair)
Res. Assist. Eda Nur YETİŞKİN MORKAN
CLICK HERE institutions and organizations where internships can be made. These institutions and organizations have been prepared for illustrative purposes. Internships can also be done in other institutions and organizations that meet the internship criteria of Bioengineering department.
2022 Internship Informin Presentation
Internship Workflow Chart (ENG)
Internship Workflow Chart (TR)
Responsible Teaching Staff List for Production Internship (Update: 28 Mar 2022)
Responsible Teaching Staff List for Laboratory Internship (Update: 28 Mar 2022)
Internship Documents and Forms
You can access the most up-to-date versions of internship documents with the relevant form number from the link below.
285 numaralı GSS Beyan ve Taahütname
729 numaralı Stajerin Kurumu Değerlendirme Anketi
730 numaralı Stajer Değerlendirme Anketi
1266 numaralı Staj Ücretlerine İşsizlik Fonu Katkısı Bilgi Formu
Internship Book Uploading Form
After completing all the procedures, students who have completed their internship should scan their internship booklets and upload them to the form provided by the department.